Relentless
by Lauren Dane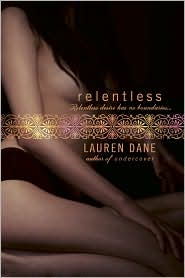 Relentless
Lauren Dane
Berkley Heat
Trade Paperback
May 2009
352 Pages
ISBN 10: 042522760X
ISBN 13: 978-0425227602
Romance novel

Formats » Trade Paperback
Book Description for Relentless
Fifteen Families rule the Federated Universes—and Abbie Haws has spent her life battling the system. She's always been too driven to pay much attention to love. But when she meets Roman Lyons, Head of House Lyons, who stands for everything she hates, Abbie's attraction catches her off-guard...
Their world, Ravena, revolves around born leader Roman, who dreads meeting this defiant— if stunning—rabble-rouser. But sometimes headstrong personalities that collide in public become hot-and-heavy, guilty trysts in private.
Buy Relentless
Want more Lauren Dane books?
It's easy! Go to the erotic romance book list for Lauren Dane to see all the Lauren Dane books on this site. There you can find a list of books for Lauren Dane and links to search results at bookstores.