Riding on Instinct
by Jaci Burton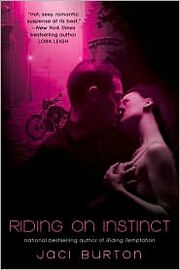 Riding on Instinct
Jaci Burton
Berkley Heat
Trade Paperback
April 2009
ISBN 10: 042522645X
ISBN 13: 978-0-425-22645-2
Romance novel

Series: Wild Riders
Formats » Trade Paperback, Ebook
Book Description for Riding on Instinct
Department of Justice agent Shadoe Grayson is out to prove she's no rookie, and eagerly accepts her first undercover assignment at a strip club in New Orleans. Working with the Wild Riders, a government agency of bad boy bikers, her goal is to expose a corrupt DEA agent. All she has to do is learn to strip like a pro.
Standing in Shadoe's way is arrogant and smokin' hot Spencer King, her new partner and one of the Wild Riders. Spence thinks she looks more like a schoolteacher than a stripper, and doubts her ability to do the job. But when he mockingly challenges Shadoe to strip just for him, he finds out there's more to the surprisingly sexy agent than by-the book rules and Government Issue pantsuits...
Buy Riding on Instinct
Want more Jaci Burton books?
It's easy! Go to the erotic romance book list for Jaci Burton to see all the Jaci Burton books on this site. There you can find a list of books for Jaci Burton and links to search results at bookstores.