The Satin Sash
by Red Garnier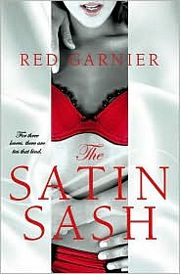 The Satin Sash
Red Garnier
NAL Heat
Trade Paperback
December 2009
ISBN 10: 0451228030
ISBN 13: 978-0-451-22803-1
Erotica novel

Formats » Trade Paperback, Ebook
Book Description for The Satin Sash
Among three lovers, there are ties that bind...
Business partners and best friends Grey Richards and Heath Solis are as different as night and day. Grey is calm, confident, and always in control. Heath is as passionate as his smoldering looks. No woman can resist them, and it's always been easy to share. Until now...
Grey is head over heels in love. He'll do anything to see Antonia Kearny smile, to hear her breath catch, to make her scream his name. And when he realizes that Toni wants another man-and that it's Heath- he'll make the ultimate sacrifice...
On a decadent weekend in Mexico, Toni will experience the hunger, the touch, the taste of two men. But will her desire bring them together, or tear them apart?
Want more Red Garnier books?
It's easy! Go to the erotic romance book list for Red Garnier to see all the Red Garnier books on this site. There you can find a list of books for Red Garnier and links to search results at bookstores.