Velvet Haven
by Sophie Renwick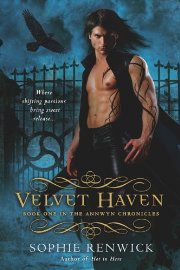 Velvet Haven
Sophie Renwick
NAL Heat
Trade Paperback
March 2010
336 Pages
ISBN 10: 0451229185
ISBN 13: 9780451229182
Romance novel

Series: The Annwyn Chronicles
Book 1 of "The Annwyn Chronicles" explores the uneasy balance between the Otherworld and the human world and just how deadly things can be when the balance is disrupted.
Formats » Trade Paperback, Ebook, ebook
Book Description for Velvet Haven
The first in a brand new series about a world of shapeshifters, from the author of Hot in Here.
Hidden from mortals for eternity, Annwyn, the Otherworld, is home to shapeshifters, wraiths and dragons. On the border with the mortal realm stands a nightclub called Velvet Haven. The shapeshifter king of Sidhe, Bran, comes there searching for his brother, Carden, who's ensnared in a centuries-old curse. He looks to Mairi, a mortal woman with an unusual aura, for help. He usually just uses humans for sexual pleasure in order to restore his magic energy, but Mairi's lush curves and teasing caresses inflame him like no Sidhe ever has. He has no idea that the woman he's falling for holds the key to his destruction-or his salvation.
Buy Velvet Haven
Want more Sophie Renwick books?
It's easy! Go to the erotic romance book list for Sophie Renwick to see all the Sophie Renwick books on this site. There you can find a list of books for Sophie Renwick and links to search results at bookstores.