Immortal Champion
by Lisa Hendrix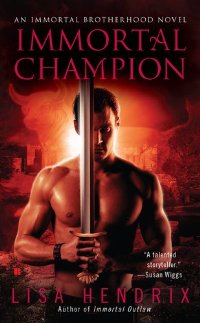 Immortal Champion
Lisa Hendrix
Berkley Sensation
Paperback
January 2011
ISBN 13: 978-0-425-23921-6
Romance novel

Formats » Paperback, ebook
Book Description for Immortal Champion
Part of a cursed Viking crew, Gunnar the Red must toil through eternity as a half-man, half-beast. Only the magic of true love can release him. While seeking shelter from a bitter winter, Gunnar rescues two maidens and finds his destiny altered forever. Lady Eleanor, one of the rescued young women, is immediately entranced by Gunnar and her kiss of gratitude awakens a longing in her soul. Though she is engaged to another man, she never forgets the courageous man that saved her life. Gunnar's body surenders to her every touch but his heart remains imprisoned by the curse that can only be broken from the truest love. Could Lady Eleanor de Neville be his salvation?
Buy Immortal Champion
Want more Lisa Hendrix books?
It's easy! Go to the erotic romance book list for Lisa Hendrix to see all the Lisa Hendrix books on this site. There you can find a list of books for Lisa Hendrix and links to search results at bookstores.