Nauti Nights
by Lora Leigh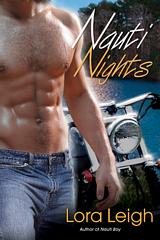 Nauti Nights
Lora Leigh
Berkley Sensation
Paperback
November 2007
ISBN 10: 042521740X
Romance novel

Series: Nauti Series
Formats » Paperback, Ebook
Book Description for Nauti Nights
Second in a hot and naughty trilogy from the author of Nauti Boy.
Lora Leigh is the queen of steamy romance! In this second novel in the Mackay Cousins trilogy, Nauti Nights, Leigh delivers an even hotter tale of a Kentucky marine who'll do anything to get the woman he wants. Lucky for him, she wants it bad.
James "Dawg" Mackay has lusted after sweet Crista for years. Just as many as she's spent running from him—and from a dangerous attraction. But for Crista, running isn't an option anymore because Dawg's got a plan to get her and keep her. It's kind of low-down—but completely hot.
Buy Nauti Nights
Want more Lora Leigh books?
It's easy! Go to the erotic romance book list for Lora Leigh to see all the Lora Leigh books on this site. There you can find a list of books for Lora Leigh and links to search results at bookstores.