Casual Hex
by Vicki Lewis Thompson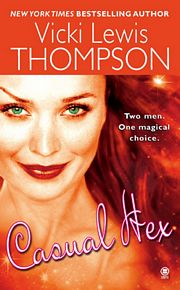 Casual Hex
Vicki Lewis Thompson
Onyx
Paperback
March 2009
336 Pages
ISBN 13: 978-0-425-41268-3
Romance novel

Series: The Hex Series
Formats » Paperback, Kindle Ebook
Book Description for Casual Hex
Gwen Dubois lives in Indiana, but her heart is in France with Marc Chevalier, a man she met online. Now he's come to Big Knob to show Gwen the meaning of amour and spirit her back to Paris. But stiff competition is coming from another part of the world—if not exactly this world. Prince Leo of the Atwood fairy kingdom has his own plans for Gwen, creating a romantic mishap that only Big Knob's resident witch and wizard can untangle.
Want more Vicki Lewis Thompson books?
It's easy! Go to the erotic romance book list for Vicki Lewis Thompson to see all the Vicki Lewis Thompson books on this site. There you can find a list of books for Vicki Lewis Thompson and links to search results at bookstores.