Crave: The Seduction of Snow White
by Cathy Yardley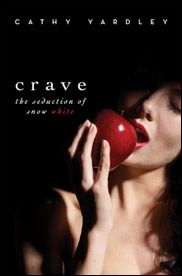 Crave: The Seduction of Snow White
Cathy Yardley
Avon Red
Trade Paperback
June 2008
259 Pages
ISBN 13: 978-0-06-137607-8
Romance novel

This sexy update of the Snow White fairy tale brings Beth and Stephen together in a dangerous, consuming passion.
"An enchanting example of erotic romance at its best!"
Read TER's Review
Highly Recommended

Formats » Trade Paperback,
Book Description for Crave: The Seduction of Snow White
When a woman is ripe for the picking...
Beth Cordova's life is no fairy tale. Having barely escaped the evil grasp of her wicked stepmother, this "missing princess" seeks refuge in a strict commune where carnal pleasures are forbidden.
Sometimes just one bite of the apple...
Her world is lonely and void of intimacy, until the charming Stephen Trent arrives at the commune. Suddenly Beth yearns for a man's touch, the feel of his lips on hers . . . and Stephen is eager to show this pure-as-snow princess that she can still be the sensual woman she was once upon a time.
Is all it takes to unleash her desires...
But all is not what it seems, and the stunning beauty finds herself again in danger, her stepmother hot on her trail. The commune's founders will not tolerate the pair, yet fleeing its walls could prove fatal. Trapped in a world where passion is outlawed, can Beth live happily ever after?
Buy Crave: The Seduction of Snow White
Want more Cathy Yardley books?
It's easy! Go to the erotic romance book list for Cathy Yardley to see all the Cathy Yardley books on this site. There you can find a list of books for Cathy Yardley and links to search results at bookstores.