Compromised
by Natalie Gray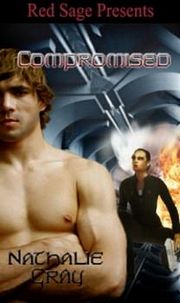 Compromised
Natalie Gray
Red Sage Publishing
Ebook
May 2008
ISBN 13: 9781603101905
Romance novella

Formats » Ebook
Book Description for Compromised
Jojo Da Silva always gets her man.
She's been an elite extraction team member long enough to know second-guessing can kill you. Get in, secure the target, then get out. Anything in the way is to be shot, blasted or destroyed. Especially those vicious Elfs, Exoskeletal Humanoid Life Forms with a mean streak that seems to grow wider in torture chambers during interrogations. No human has ever survived an Elf interrogation. Never.
Jojo knows this time she has to get her man before the Elfs discover his true identity and interrogate him. He's been undercover on their trading station, so deep undercover that even she doesn't know his identity. All she knows is the yellow dot on her wristband monitor that shows his location.
But when her target turns out to be her tough, daring, disappearing ex, a man as handsome as he was shrewd, one gifted with amazingly skilled hands and an even more wicked mouth, Jojo can't seem to follow orders as usual. Abandon the compromised mission? No way! She has two hours, and Jojo won't let Mathias die. He disappeared from her life, and she's missed his loving ever since. She won't let him slip away again.
Because Jojo always gets her man, and this time, it's personal.
Want more Natalie Gray books?
It's easy! Go to the erotic romance book list for Natalie Gray to see all the Natalie Gray books on this site. There you can find a list of books for Natalie Gray and links to search results at bookstores.