A Reason to Sin
by Maureen McKade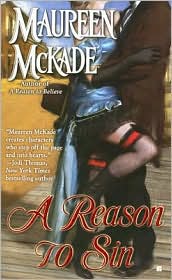 A Reason to Sin
Maureen McKade
Berkley Sensation
Paperback
March 2008
304 Pages
ISBN 10: 0425220591
ISBN 13: 978-0425220597
Romance novel

Formats » Paperback, ebook
Book Description for A Reason to Sin
The heart-stopping follow-up to A Reason to Believe and A Reason to Live.
A former well-to-do young woman winds up alone, homeless, and desperate to get her son back. Little does she know that she'll encounter a man destined to change the course of her life.
Buy A Reason to Sin
Want more Maureen McKade books?
It's easy! Go to the erotic romance book list for Maureen McKade to see all the Maureen McKade books on this site. There you can find a list of books for Maureen McKade and links to search results at bookstores.