Branded by Fire
by Nalini Singh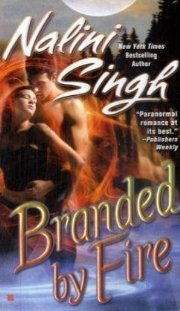 Branded by Fire
Nalini Singh
Berkley Sensation
Paperback
July 2009
368 Pages
ISBN 13: 978-0-425-22673-5
Romance novel

The sixth installment of the Psy/Changeling series
Formats » Paperback, Ebook
Book Description for Branded by Fire
Bestselling author Nalini Singh brings together two fierce changelings in her most explosive story yet.
Though DarkRiver Sentinel Mercy is feeling the pressure to mate, she savagely resists when Riley Kincaid, a lieutenant from the SnowDancer pack, tries to possess her. The problem is not simply that he pushes her buttons; the problem is that he's a wolf, she's a cat, and their insistence for conflict is inbred.
But when a brilliant changeling researcher is kidnapped from DarkRiver territory, Mercy and Riley must work together to track the young man—before his shadowy captors decide he's no longer useful. Along the way, the two dominants may find that submitting to one another uncovers not just a deadly conspiracy, but a passion so raw that it'll leave them both branded by fire.
Buy Branded by Fire
Want more Nalini Singh books?
It's easy! Go to the erotic romance book list for Nalini Singh to see all the Nalini Singh books on this site. There you can find a list of books for Nalini Singh and links to search results at bookstores.