Bride by Command
by Linda Winstead Jones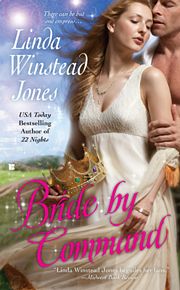 Bride by Command
Linda Winstead Jones
Berkley Sensation
Paperback
March 2009
ISBN 13: 978-0-425-22804-3
Romance novel

Series: Emperor's Bride
Formats » Paperback, ebook
Book Description for Bride by Command
Disguised as a sentinel, the emperor of Columbyana is shocked that his next bridal candidate isn't interested in becoming an Empress. Determined to teach the haughty beauty a lesson, the Emperor strikes a bargain with her stepfather, and claims her as his bride.
Buy Bride by Command
Want more Linda Winstead Jones books?
It's easy! Go to the erotic romance book list for Linda Winstead Jones to see all the Linda Winstead Jones books on this site. There you can find a list of books for Linda Winstead Jones and links to search results at bookstores.