Convictions
by Maureen McKade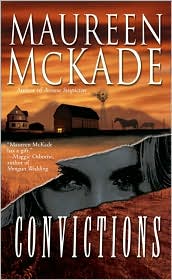 Convictions
Maureen McKade
Berkley Sensation
Paperback
October 2005
320 Pages
ISBN 10: 0425203565
ISBN 13: 978-0425208502
Romance novel

Formats » Paperback, ebook
Book Description for Convictions
Ever since she was brutally assaulted, ADA Olivia Kincaid has had trouble trusting men, until she finds herself inexplicably attracted to a convicted criminal from her father's prison work release program. But when a local woman is murdered, she must decide whether to trust her head or her heart.
Buy Convictions
Want more Maureen McKade books?
It's easy! Go to the erotic romance book list for Maureen McKade to see all the Maureen McKade books on this site. There you can find a list of books for Maureen McKade and links to search results at bookstores.