Ghost Moon
by Rebecca York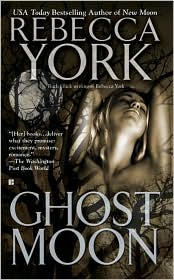 Ghost Moon
Rebecca York
Berkley Sensation
Paperback
May 2008
320 Pages
ISBN 10: 0425222454
ISBN 13: 978-0425222454
Romance novel

Formats » Paperback, ebook
Book Description for Ghost Moon
To protect one man, she must risk the vengeance of many...
A freed slave from a parallel universe, Quinn has come to this world on a vital mission. But she's stopped in her tracks by the seductive attentions of a mysterious spirit. He's a ghost named Caleb Marshall—a werewolf who was supposedly murdered by the ancestors of her dearest friends...
When Caleb finds a way to take over a human body, Quinn can no longer resist her overwhelming desire, even though she's not sure she can trust him. But soon she discovers that they have a common enemy—and if she doesn't act fast, she may lose the man she's come to love, along with her life...
Buy Ghost Moon
Want more Rebecca York books?
It's easy! Go to the erotic romance book list for Rebecca York to see all the Rebecca York books on this site. There you can find a list of books for Rebecca York and links to search results at bookstores.