Good Girls Do
by Cathie Linz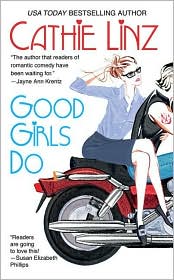 Good Girls Do
Cathie Linz
Berkley Sensation
Paperback
January 2006
336 Pages
ISBN 10: 0425208486
ISBN 13: 978-0425208489
Romance novel

Formats » Paperback, ebook
Book Description for Good Girls Do
Julia Wright couldn't be more content with her job at the local library, nestled in placid, picturesque Serenity Falls. Until her wacky mother, petty-thief sister, and little niece decide to crash her quiet party of one. And her troubles really stack up when a new guy roars into town on his Harley, shaking up more than just the books on her shelves.
Buy Good Girls Do
Want more Cathie Linz books?
It's easy! Go to the erotic romance book list for Cathie Linz to see all the Cathie Linz books on this site. There you can find a list of books for Cathie Linz and links to search results at bookstores.