Heat of the Night
by Emma Holly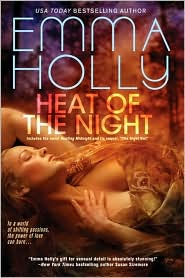 Heat of the Night
Emma Holly
Berkley Sensation
Trade Paperback
January 2007
368 Pages
ISBN 10: 0425211355
ISBN 13: 978-0425211359
Romance anthology

Formats » Trade Paperback, ebook
Book Description for Heat of the Night
From the USA Today bestselling author-a two-in-one volume of her extraordinary shapeshifting romances, Hunting Midnight and "The Night Owl."
Featuring her novel Hunting Midnight and its sequel novella, "The Night Owl," Heat of the Night is Emma Holly at her paranormal best.
In Hunting Midnight, the leader of a pack of shapeshifting immortals is betrayed by his longtime lover. Consumed with fury, he ventures recklessly beyond the borders of the Scottish forest-and into the desperate arms of a merchant's daughter.
In "The Night Owl," a member of the same pack has been sent to America where his power can grow unimpeded. In a small Vermont town, his desire for a local baker makes him believe he has found his mate-and he'll do anything to claim her.
Buy Heat of the Night
Want more Emma Holly books?
It's easy! Go to the erotic romance book list for Emma Holly to see all the Emma Holly books on this site. There you can find a list of books for Emma Holly and links to search results at bookstores.