Master of the Highlands
by Veronica Wolff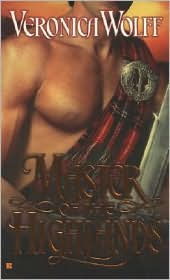 Master of the Highlands
Veronica Wolff
Berkley Sensation
Paperback
February 2008
304 Pages
ISBN 10: 0425218996
ISBN 13: 978-0425218990
Romance novel

Formats » Paperback, ebook
Book Description for Master of the Highlands
Lily Hamlin is making a pilgrimage to Scotland with hopes for some direction in her life. There she discovers an overgrown maze and a strange stone map-and lands back in time, in the Lochaber of 1654.
Ewen, Chief of the Clan Cameron, must save his people from the brutal redcoats. But then he meets a saucy lass with a peculiar accent, no regard for his title-and an arousing body. Drawn to each other despite their differences, they both realize that they don't want her to go back to her own time. But with battles brewing, staying is a gamble.
Buy Master of the Highlands
Want more Veronica Wolff books?
It's easy! Go to the erotic romance book list for Veronica Wolff to see all the Veronica Wolff books on this site. There you can find a list of books for Veronica Wolff and links to search results at bookstores.