Mortal Sins
by Eileen Wilks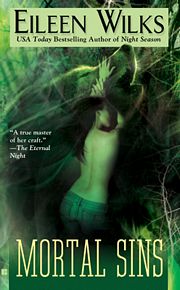 Mortal Sins
Eileen Wilks
Berkley Sensation
Paperback
February 2009
ISBN 13: 978-0-425-22552-3
Romance novel

Series: World of the Lupi
Formats » Paperback, Ebook, ebook
Book Description for Mortal Sins
FBI Agent Lily Yu and her werewolf lover are embroiled in a series of murders, each linked to a form of dangerous "death magic."
Buy Mortal Sins
Want more Eileen Wilks books?
It's easy! Go to the erotic romance book list for Eileen Wilks to see all the Eileen Wilks books on this site. There you can find a list of books for Eileen Wilks and links to search results at bookstores.