My Favorite Witch
by Annette Blair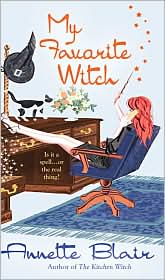 My Favorite Witch
Annette Blair
Berkley Sensation
Paperback
January 2006
304 Pages
ISBN 10: 0425207234
ISBN 13: 978-0425207239
Romance novel

Formats » Paperback, ebook
Book Description for My Favorite Witch
Kira is a white witch with a genius for organizing special events. When disabled star hockey player Jason Goddard—known far and wide as the Best Kisser in America and a playboy of the first order—meets her, she has just dumped her jock fiance after finding him in bed with her sister the month before the wedding. So she's muttering spells and he gets entirely the wrong impression, and for her part she has no idea that he is her new boss, the beloved grandson of Bessie, her landlord and friend. The Pickering Foundation is in a financial bind, and Bessie hopes that together her two favorite people can bring in new money to support their charitable endeavors, especially St. Anthony's Home for Boys.
Buy My Favorite Witch
Want more Annette Blair books?
It's easy! Go to the erotic romance book list for Annette Blair to see all the Annette Blair books on this site. There you can find a list of books for Annette Blair and links to search results at bookstores.