Sea Fever
by Virginia Kantra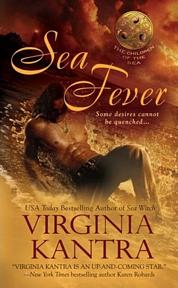 Sea Fever
Virginia Kantra
Berkley Sensation
Paperback
August 2008
304 Pages
ISBN 10: 0425222977
ISBN 13: 978-0425222973
Romance novel

Series: Children of the Sea
Formats » Paperback
Book Description for Sea Fever
Some heat cannot be quenched...
A desire for life...
Regina Barone knows something is missing from her life. She spends her days working in her mother's restaurant on the Maine island of World's End and her nights caring for her young son. When the island's only eligible bachelor marries another, Regina realizes that the love she yearns for isn't just going to appear by magic. Or is it?
A denial of blood...
Dylan Hunter has returned to World's End for his brother's wedding, but he is troubled by his human ties. Years ago, he chose his life as a selkie - an immortal being of the sea - over the fragile and treacherous emotions of humanity. The same emotions that destroyed his family, and that will strike at his very heart...
A danger to both...
Neither Regina nor Dylan can control their attraction to each other - or foresee its disastrous consequences. But their destiny has been foretold, and their fate will be decided in the stormy tides of water and fire, where only love can save them - and the world!
Buy Sea Fever
Want more Virginia Kantra books?
It's easy! Go to the erotic romance book list for Virginia Kantra to see all the Virginia Kantra books on this site. There you can find a list of books for Virginia Kantra and links to search results at bookstores.