Sucker Bet
by Erin McCarthy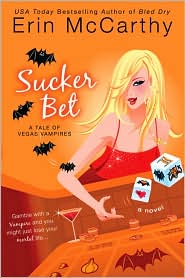 Sucker Bet
Erin McCarthy
Berkley Sensation
Trade Paperback
January 2008
304 Pages
ISBN 10: 0425217183
ISBN 13: 978-0425217184
Romance novel

Formats » Trade Paperback, ebook
Book Description for Sucker Bet
The national bestselling author of Bled Dry returns to vampire-filled Las Vegas!
A night of indulgence can feel like an eternity. Gwenna Carrick has a history- 900 years of it. As the vampiress ex-wife of the notorious vampire Roberto Donatelli, she must keep a low profile. Not easy when you're bathed in the neon glow of Las Vegas-especially when there's a whole online group of vampire slayers bent on dealing you your last hand.
A wild night with a stranger was not in the cards for Gwenna. But that's what happened when she met the ruggedly handsome detective Nate Thomas. Their passion made her feel alive again. But when Donatelli catches wind of the tryst, he's determined to clean house, with Nate the first on his to-off list. Gwenna knows she hit the jackpot with Nate and won't let anyone stand in the way. But both soon realize they have far more enemies than Donatelli- both on the strip and underground.
Buy Sucker Bet
Want more Erin McCarthy books?
It's easy! Go to the erotic romance book list for Erin McCarthy to see all the Erin McCarthy books on this site. There you can find a list of books for Erin McCarthy and links to search results at bookstores.