Visions of Heat
by Nalini Singh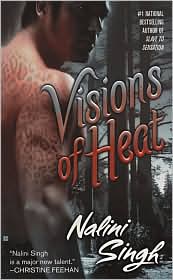 Visions of Heat
Nalini Singh
Berkley Sensation
Paperback
March 2007
352 Pages
ISBN 10: 042521575X
ISBN 13: 978-0425215753
Romance novel

Formats » Paperback, ebook
Book Description for Visions of Heat
Faith NightStar is suddenly being tormented by dark visions of blood and murder. A bad sign for anyone, but worse for Faith, an F-Psy with the highly sought after ability to predict the future. Then the visions show her something even more dangerous-aching need...exquisite pleasure. But so powerful is her sight, so fragile the state of her mind, that the very emotions she yearns to embrace could be the end of her. Changeling Vaughn D'Angelo can take either man or jaguar form, but it is his animal side that is overwhelmingly drawn to Faith. The jaguar's instinct is to claim this woman it finds so utterly fascinating and the man has no argument. But while Vaughn craves sensation and hungers to pleasure Faith in every way, desire is a danger that could snap the last threads of her sanity. And there are Psy who need Faith's sight for their own purposes. They must keep her silenced-and keep her from Vaughn...
Buy Visions of Heat
Want more Nalini Singh books?
It's easy! Go to the erotic romance book list for Nalini Singh to see all the Nalini Singh books on this site. There you can find a list of books for Nalini Singh and links to search results at bookstores.