Warrior of the Highlands
by Veronica Wolff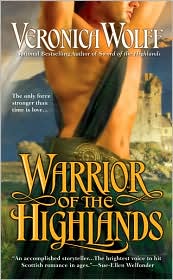 Warrior of the Highlands
Veronica Wolff
Berkley Sensation
Paperback
January 2009
336 Pages
ISBN 13: 978-0-425-22675-9
Romance novel

Haley has gone back in time—and fallen in love with a Scottish warrior fated to die a tragic death...
"This was a fun time-travel romance set in Scotland, with a hero who's a true Scottish warrior!"
Read TER's Review

Formats » Paperback, Ebook, ebook
Book Description for Warrior of the Highlands
While doing research for her dissertation, graduate student Haley Fitzpatrick stumbles upon a strange artifact—which sends her back in time to old Scotland, directly into the path of the notorious Alasdair MacColla, a warrior known for his enormous physical presence and bloodthirsty reputation.
Assuming that this woman with the mysterious accent is an enemy spy, MacColla promptly kidnaps her. But Haley's beauty and courage strike a chord in the Highlander, awakening a desire in him that he hadn't known existed.
At first, Haley's frightened by her imposing captor. But she soon discovers that MacColla is much more than the brute that modern history describes, and decides she's meant to be by his side. But unless she can find a way to change the past, the warrior she's fallen for is destined to meet a tragic end.
Buy Warrior of the Highlands
Want more Veronica Wolff books?
It's easy! Go to the erotic romance book list for Veronica Wolff to see all the Veronica Wolff books on this site. There you can find a list of books for Veronica Wolff and links to search results at bookstores.