Wild for Him
by Janelle Denison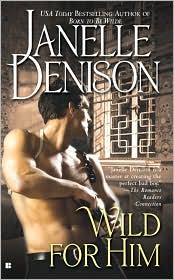 Wild for Him
Janelle Denison
Berkley Sensation
Paperback
June 2008
320 Pages
ISBN 10: 0425221970
ISBN 13: 978-0425221976
Romance novel

Formats » Paperback, ebook
Book Description for Wild for Him
Now, she introduces a hunky bodyguard guaranteed to drive fans wild.
Ex-marine and security agent Ben Cabrera isn't about to complain about his latest assignment protecting the daughter of a gubernatorial candidate. After all, spending 24/7 with Christy Delacroix isn't exactly a chore. But it turns out that Christy's seduction tactics are top-notch—and soon it's impossible to keep things strictly professional
Buy Wild for Him
Want more Janelle Denison books?
It's easy! Go to the erotic romance book list for Janelle Denison to see all the Janelle Denison books on this site. There you can find a list of books for Janelle Denison and links to search results at bookstores.