Enchanted: Erotic Bedtime Stories for Women
by Nancy Madore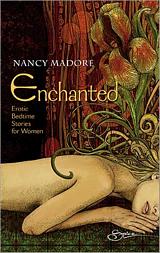 Enchanted: Erotic Bedtime Stories for Women
Nancy Madore
Spice Books
Trade Paperback
July 2006
ISBN 10: 0-373-60509-9
Erotica anthology

Formats » Trade Paperback
Book Description for Enchanted: Erotic Bedtime Stories for Women
Allow yourself to be drawn into a fantasy world like no other...where a beautiful princess is seduced into a love triangle with a handsome prince and her winsome maid...where a mysterious gentleman's young bride is deliciously disciplined for her unchecked curiosity...where a naive daughter is married off to a beast of a man whose carnal appetites awaken her budding desire....
With a unique and decidedly adult twist on thirteen classic fairy tales, Nancy Madore intrigues and arouses with her titillating, sizzling anthology of erotic stories guaranteed to keep you up late into the night.
You'll never look at fairy tales the same way again.
Want more Nancy Madore books?
It's easy! Go to the erotic romance book list for Nancy Madore to see all the Nancy Madore books on this site. There you can find a list of books for Nancy Madore and links to search results at bookstores.