Afternoon Delight
by Kayla Perrin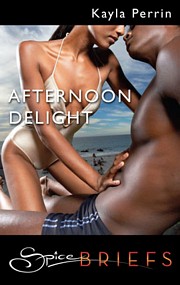 Afternoon Delight
Kayla Perrin
Spice Briefs
Ebook
June 2009
ISBN 13: 9781426835124
Erotica novella

Formats » Ebook
Book Description for Afternoon Delight
Marissa isn't exactly sure what she wanted on her trip to Cancun—until she ends up at the adults-only resort Temptation with the sexy man she's been admiring from afar for days. Trevor is certainly the type of guy to help Marissa forget her troubles back home...and it's clear he wants her, too.
In a place where inhibitions are left at the reception desk, it's time for Marissa to give into temptation and have a vacation she'll never forget...
Want more Kayla Perrin books?
It's easy! Go to the erotic romance book list for Kayla Perrin to see all the Kayla Perrin books on this site. There you can find a list of books for Kayla Perrin and links to search results at bookstores.