Her Lord and Master
by Jennifer Dale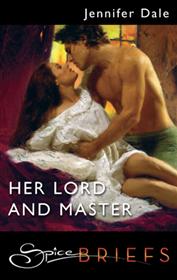 Her Lord and Master
Jennifer Dale
Spice Briefs
Ebook
January 2009
ISBN 13: 9781426827136
Erotica novella

Formats » Ebook
Book Description for Her Lord and Master
It doesn't take long for new servant Molly to come to the attention of the master of Ashford Hall—starting with a passionate welcoming kiss. Within weeks, Lord Ashford makes innocent young Molly his "personal maid" charged with satisfying all his needs—domestic and sexual.
Molly knows giving herself to Lord Ashford could threaten her future, but he is her master...and she can't deny the desire coursing through her veins. She quickly learns to enjoy the pleasure his body provides...and loses her heart to her rake of a lord. But while Lord Ashford shares her lust, he could never return her love...
Want more Jennifer Dale books?
It's easy! Go to the erotic romance book list for Jennifer Dale to see all the Jennifer Dale books on this site. There you can find a list of books for Jennifer Dale and links to search results at bookstores.