Hot On Her Tail
by Saskia Walker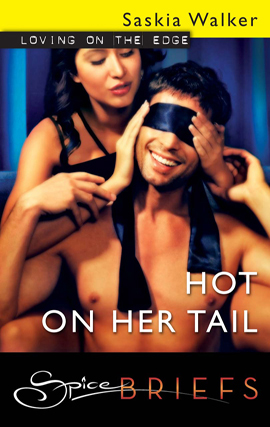 Hot On Her Tail
Saskia Walker
Spice Briefs
Ebook
November 2008
ISBN 13: 9781426824746
Erotica novella

Formats » Ebook
Book Description for Hot On Her Tail
It wasn't the knee-high black leather boots or the skintight leather hotpants that grabbed his attention, but the padlocked slave collar she was wearing around her neck. As she stepped out of the stolen vehicle he'd been chasing, Officer Colin O'Neil was thunderstruck by the alluring redhead in the provocative attire.
Upon further investigation, it soon became clear that despite appearances, Lara Miller was not some crazy car thief dressed like a bondage slave from a porn movie. She was, in fact, the victim in some underhanded maneuvering by her vindictive ex. Now it was up to Colin to help her out of this mess. But the electric attraction that blazed between them soon culminated in a night of explosive passion that would change Colin's life forever.
Here is the tantalizing conclusion to Saskia Walker's sizzling erotic series, Loving on the Edge, about the hard-working, hard-loving O'Neil brothers.
Buy Hot On Her Tail
Want more Saskia Walker books?
It's easy! Go to the erotic romance book list for Saskia Walker to see all the Saskia Walker books on this site. There you can find a list of books for Saskia Walker and links to search results at bookstores.