Mistress Menage
by Jenesi Ash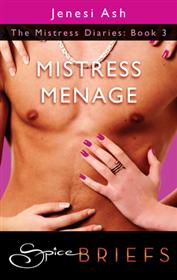 Mistress Menage
Jenesi Ash
Spice Briefs
Ebook
May 2008
ISBN 13: 9781426816000
Erotica novella

Formats » Ebook
Book Description for Mistress Menage
In this third installment of The Mistress Diaries, the bawdy, naughty adventures of Amaris Martin, ambitious career mistress to a millionaire, Amaris's lover Leon loses at a high-stakes Vegas poker game, and a night with Amaris is part of the bet. Rather than being outraged, Amaris is delighted—the man who won her is very sexy...and even richer than Leon! Approaching the night as a potential job interview, Amaris is dismayed to discover the guy's already got a mistress who's not too keen on the ménage a trois he has in mind. But by the end of the night, Amaris is sure she's got herself a new benefactor...until she wakes up the next morning to find his dead body in her bed, and her rival claims Amaris killed him.
Want more Jenesi Ash books?
It's easy! Go to the erotic romance book list for Jenesi Ash to see all the Jenesi Ash books on this site. There you can find a list of books for Jenesi Ash and links to search results at bookstores.