This Is What I Want
by Megan Hart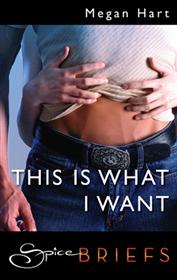 This Is What I Want
Megan Hart
Spice Briefs
Ebook
December 2007
ISBN 13: 9781426810701
Erotica novella

Formats » Ebook
Book Description for This Is What I Want
By day she was Eve Grant, customer service drone in a drab office cubicle. But at night she became Eris Apparent, sex goddess of the blogosphere, where she could express her true self in sizzling erotic fantasies. As Eve she entertained aching, unfulfilled fancies about her sexy co-worker. But as Eris Apparent she was outspoken and demanding as she carried on a steamy cyberspace affair with the mysterious Tell_me.
Want more Megan Hart books?
It's easy! Go to the erotic romance book list for Megan Hart to see all the Megan Hart books on this site. There you can find a list of books for Megan Hart and links to search results at bookstores.