Tuscan Freedom
by Ruthie Michaels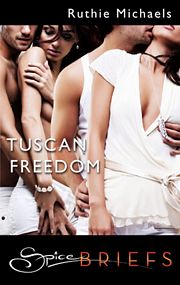 Tuscan Freedom
Ruthie Michaels
Spice Briefs
Ebook
February 2010
ISBN 13: 9781426848759
Erotica novella

Formats » Ebook
Book Description for Tuscan Freedom
Lily's normal life was dull and unchallenging—and seriously lacking in exciting sex! But when she goes on vacation in Italy, Lily finally feels free to explore a whole new side of herself...with the help of her hostess, Gianna. Before her trip is over, Lily will experience things she never imagined—such as a scandalous tryst with a stranger, a night of pleasure with her fellow houseguests, and so much more....
Want more Ruthie Michaels books?
It's easy! Go to the erotic romance book list for Ruthie Michaels to see all the Ruthie Michaels books on this site. There you can find a list of books for Ruthie Michaels and links to search results at bookstores.