The Seduction of Miranda Prosper
by Marissa Day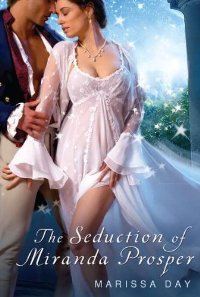 The Seduction of Miranda Prosper
Marissa Day
Berkley Heat
Trade Paperback
January 2011
304 Pages
ISBN 13: 978-0-425-23865-3
Romance novel

Formats » Trade Paperback, ebook,
Book Description for The Seduction of Miranda Prosper
Regency England has never been so dangerous, so magical—or so hot.
In the rarefied atmosphere of London's upper-crust society, restless and willful Miranda Prosper is considered unmarriageable. So she's stunned when the mysterious and unsettlingly handsome Mr. Corwin Rathe asks for a dance at a summer ball. But it's more than a waltz—because Corwin is a sorcerer, and he's about entangle Miranda in a web of sexual enchantment, magical intrigue, and breathtaking danger.
With his partner Darius Marlowe, he fights a hidden battle against a magic-force invasion of England. But Miranda has power in her own right, and together all three are drawn into a sensuous web of sexual enchantment and intense erotic desire. But the also find themselves enmeshed in a dark game of magical intrigue, with stakes higher than they could have foreseen.
Buy The Seduction of Miranda Prosper
Want more Marissa Day books?
It's easy! Go to the erotic romance book list for Marissa Day to see all the Marissa Day books on this site. There you can find a list of books for Marissa Day and links to search results at bookstores.