Review, Burning Up
This anthology is not to be missed with its collection of sexy and highly readable stories.
An original paranormal romance anthology featuring four of the genre's hottest voices.
Book details for Burning Up by Meljean Brook, Virginia Kantra, Angela Knight, Nalini Singh
Formats » Paperback, Ebook, ebook
Book Review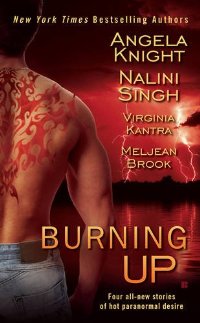 Burning Up is an anthology made up of stories written by four different writers of paranormal romance. Of the four stories in this excellent anthology, my favorite was Shifting Sea, but of course, since I'm a huge fan of Virginia Kantra's Children of the Sea series, I'm partial to her tales.
I had never read a Nalini Singh story before, but after reading Whisper of Sin (still don't understand the title choice for this one...) I realized I might be missing a great author. Whisper of Sin is part of the Psy-Changeling series and brings a sexy shape-shifter into the world of a young woman who finds herself in a dangerous situation.
As I said before, I'm a big fan of Virginia Kantra's Children of the Sea. In Shifting Sea, she brings together a former soldier who has recently inherited land in Scotland in 1813 with Morwenna, a shape-shifting sea dweller. This story has special significance to the upcoming Immortal Sea (which I HIGHLY recommend). I enjoyed the sexy sweetness of this story and loved the hero and heroine.
Blood and Roses was an interesting story, but quite dark. At first, I had trouble coming to terms with a heroine who would sacrifice the lives of so many men to save her sister. Once I realized her motives could possibly be greater than saving the life of one girl, I was able to empathize with her and enjoy her story.
My second favorite story in the anthology was Here There are Monsters by Meljean Brook. Although I haven't read other Meljean Brook stories, I don't think I'm going to be able to miss her new series. Set in an alternate history of the Earth, Here There are Monsters has the feeling of a Regency or Victorian era historical, but with dark edges and strange technologies. The nonchalance with which the characters accepted the replacement of their natural limbs with metal, mechanical substitutes imbued the story with a certain creepiness. I was quite taken with Brook's new world and can't wait to revisit it.
All in all, I thought Burning Up was a sexy, well-put-together anthology with a variety of stories for a variety of tastes, each one strong and entertaining. Despite my lack of familiarity with several of the authors, I was able to enjoy every story in the book. Burning Up is a great anthology and I highly recommend it!
Reviewed by TER
Book Description
Bring these four authors together and it's sure to ignite a spark...
Passion runs as hot as a fever dream in these all-new stories by four New York Times bestselling provocateurs of the paranormal.
Angela Knight pairs a vampire warrior and his seductive captor in a battle against demonic predators.
Nalini Singh returns to the world of her Psy-Changeling series as a woman in lethal danger finds an unlikely protector-and lover.
Virginia Kantra continues the haunting tales of the Children of the Sea in her story of a wounded soldier rescued by an enigmatic young woman.
Meljean Brook launches a bold new steampunk series about a woman who strikes a provocative-and terrifying-bargain for freedom.
Formats » Paperback, Ebook, ebook