Review, Dark Embers
Dark tale of dragons, romance, and a deadly plague...
To save his people, he'll brave the fires of the heart.
Book details for Dark Embers by Tessa Adams
Formats » Trade Paperback, Ebook, Kindle Ebook
Book Review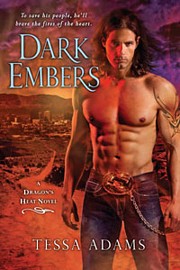 Dark Embers by Tessa Adams is a book about dragons, romance, magic, and a deadly disease that's killing the people of the Dragonstar clan. Dylan and Phoebe come together when Dylan seeks out a scientist specializing in autoimmune and nervous system disorders. He wants her to work with his clan's doctors to discover the cause of and a cure for the disease that's killing the members of his clan.
Dark Embers has a strong story propelling it forward, with writing strong enough to overcome a few big issues I had with the book.
Frankly, I read Dark Embers even though I kept thinking I ought to be enjoying the book more than I was.
Don't misinterpret me. I did like the book. I would even recommend it to anyone who enjoys dragon stories and dark romance.
However, the things I didn't like about the book conspired to leave me feeling let down when I finished reading, despite the happy and romantic ending.
This dark, sensual tale takes a lot of its conflict from the heroine's past. Her terrifying and horrific experiences as a young woman led her to behave in a way early on in this story that I didn't find it easy to identify with, and if the disease plot hadn't been quite so intriguing, I'm not sure I would have made it past Dylan and Phoebe's first meeting. Pheobe strongly overreacted to Dylan's presence, panicking when it didn't make any sense for her to be panicked. This led into their first sexual encounter ridiculously quickly after that, in which it becomes clear Phoebe is hard-edged and tough-minded. The final element that nearly ruined this book for me came during the climax of the story, and although it was hinted at several times (I saw it coming halfway through the book), it was unbelievable and out of place.
I realize it reads as if I hated this book, but I really didn't. I enjoyed it for the most part, and the very fact that I read the entire thing despite the issues I had with the story prove that there's something there that makes this book interesting and powerful. With a strong dose of high-emotion, Dark Embers pulls you in and keeps you there in the story. Dylan is a strong hero and I enjoyed him much more than Phoebe. With a different type of heroine, Dark Embers might have been a revisitable favorite of mine. Unfortunately, it didn't work out that way.
I'll certainly be keeping my eye out for a sequel, but I haven't yet decided if I'm ready to venture into future Tessa Adams books. I guess it depends what kind of heroine appears in the next one.
Reviewed by TER
Book Description
A new erotic paranormal series, starring dragon shapeshifters, kicks off with a very sexy debut...
Prince Dylan MacLeod is one of the last pure-blood dragon shape-shifters—and ruler of a dying race, the Dragonstar clan. It falls to him to protect his people and their ancient magic. But he has one important duty: to provide an heir...
Like all dragons, Dylan, who has a dark, rampant sexual appetite, can only procreate with his destined mate—for whom he's searched for the last five hundred years. But his quest is delayed when a disease sweeps through the Dragonstars, and Dylan must venture to the human world to find a cure. He tracks down bio-chemist Phoebe Quillum, never imagining the beautiful scientist would be the mate he's been seeking. But even with the fate of the clan on their shoulders, Phoebe and Dylan are overcome by their sexual desire.
Their passion turns to something truer, but when Phoebe is kidnapped by Dylan's oldest enemy, he must risk everything for his love and his clan...
Formats » Trade Paperback, Ebook, Kindle Ebook