Review, Megan's Mark
An introduction to The Breeds for new Lora Leigh readers, Megan's Mark is the first in her Berkley series—and what a great start to the series it is!
Lora Leigh invites you to an intriguing world where genetically altered Breeds and the humans who created them commingle—and sometimes cross the boundaries of desire...
Book details for Megan's Mark by Lora Leigh
Formats » Paperback, Ebook
Book Review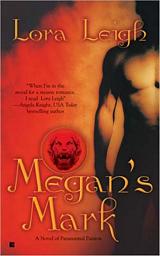 Megan's Mark was Lora Leigh's first Breed story for the Berkley Sensation imprint. Although Leigh has written many other books in the Breed series of stories, this is also the first novel-length story I've read from her, but it won't be my last.
My first taste of the Breeds came from a short story I read in the Shifter anthology that came out early this year. That story intrigued me and introduced me to what wonderful stories I might expect from Lora Leigh. I'm just sorry that I waited this long to get my hands on the books.
Set in 2023 in Southern New Mexico, Megan's Mark tells the story of Megan Fields and Braden Arness. Megan is a sheriff's deputy and Braden is an enforcer for Breed Affairs.
The short of it is that the Breeds are genetically altered humans who contain only the strongest genetic material from several animal species. The Breeds were intended to be used as weapons, but something happened that altered that and the Breeds have been trying to live among unaltered humans but not having much luck at it.
Their lives collide when Megan is marked for death by someone who's also responsible for the death of two young feline Breeds.
Megan is nearly crippled by her empathic abilities when she's around people, but somehow Braden's presence helps her control her reactions. Because of that, she's more interested in him than she wants to be.
Did I have a quibble with this book? Not a one.
Boldly sexual, thoroughly engrossing, Megan's Mark was a steamy romance read for the die hard romantic in me. I love a sci-fi twist whenever I can get it in a hot book and this story provided that and plenty more to keep me entertained.
I've already started Harmony's Way (the second of the Berkley series) and am looking forward to catching up with this series!
Reviewed by TER
Book Description
Cursed with the extraordinary power to feel other peoples' emotions, Megan Fields has tucked herself away in a remote corner of New Mexico, working as a small-town sheriff's deputy. She finds solace in the silence and heat of the desert. But when Breeds begin dying on her watch, Megan realizes that the secrets from her past can't stay buried forever. Someone is out for blood—her blood.
An arrogant Feline Breed, Braden Arness broods with feral intensity. His mission to solve the mysterious murders brings him to Megan, a woman who accosts his senses like no other. Only with him can she let down her guard—and surrender to the insatiable hunger that wracks her body. But as they team up to hunt the elusive killers, Braden and Megan find themselves becoming the prey...
Formats » Paperback, Ebook