Review, Playing Easy to Get
One thoroughly satisfying paranormal read plus two other short stories.
Sexy hunks, playing easy to get!
Book details for Playing Easy to Get by Jaid Black, Kresley Cole, Sherrilyn Kenyon
Formats » Trade Paperback,
Book Review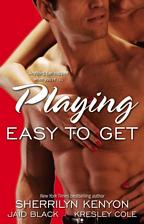 I'm almost ashamed to admit how excited I was when Playing Easy to Get arrived on my front stoop. I try to avoid comparisons because every good writer is unique in his or how own style, but after completing the entirety of the book, I was almost embarrassed for the other two authors. Although each is renowned and can usually be depended on to entertain, I found both "Hunter's Oath" by Jaid Black and "Turn Up the Heat" by Sherrilyn Kenyon lacking depth. Alone, or without the excitement of "The Warlord Wants Forever", they might still have gotten a favorable reaction out of me.
I can't say I know what a publisher is thinking when it decides who and how to package an anthology, but I imagine the idea was to use the first two confections to whet the appetite for the real meal. It didn't work for me, because lo-and-behold, I never read an anthology from beginning to end, and this book was no exception. I started with the last story and read backward. My bad, I guess, because I certainly paid the price. After reading "The Warlord Wants Forever" the other two stories paled into insignificance. "Turn Up the Heat" at least kept me interested with humor, but the Jaid Black story had little to recommend it. As someone who hasn't read any of the other stories in the series "Hunter's Oath" is part of, I can't say that this story has given me any reason to want to read more. For those of you who have been enjoying that series, this might be a nice interlude between the "real" books--if they're better. I hate to even hint that this wasn't a good story, simply because I'm a fan of Jaid Black. However, I'm not a fan of "Hunter's Oath".
"Turn Up the Heat" was a humorous take on the fantasy island theme. Allison George wins the Heroine Hideaway Sweepstakes (with help from an old high school friend) and she's swept away to live out her favorite romance novel as the heroine of her own story. She meets Vince Cappelleti, whom I liked very much as a hero. The rest of the story was interesting but a little over the top. Humor is definitely subjective and some of the should-have-been-funny stuff came off flat for me. Still, if you like the BAD series, you'll probably want to read this.
"Hunter's Oath" fell flat all the way around. I didn't find the story sexy or funny and the heroine--well, I felt sorry for her most of the time and never did connect with either her or the hero, Johen Stefsson. If you've got books waiting to be read, skip this story and go straight for one of those.
"The Warlord Wants Forever" by Kresley Cole stood out as the singular reason why my money was well-spent on this book. The tale of Nikolai and Myst the Coveted filled in a few blank spots for me and as a huge fan of the Immortals After Dark series, I can see why everyone clamored for more after this tale. Now I guess I'm going to have to go back to the other books and reread them with my newfound knowledge of the history of Nikolai and Myst. :-)
Nikolai is exactly the type of hero I love to read about. His physical prowress, his strength of character, these are the characteristics that make me want to lick my way from his head to his toes. I loved this story.
Reviewed by TER
Book Description
"Turn Up the Heat" by Sherrilyn Kenyon is the story of an average woman who wins the vacation of a lifetime. What Allison George gets is a race for her life with none other than an ex-Mafia hit man who is now being sought by his prior employer. Vince Cappelleti knew the island was a risky proposition, but he'd run out of options. Now the only thing he wants in his sights is Allison, but in order to have a future with her, he must first deal with his past.
"Hunter's Oath" by Jaid Black sends grief-stricken Sofia Rowley to the Arctic Circle, where her brother, a U.S. Army officer, was lost in a deadly helicopter crash. She's about to take a shocking journey into a secret underground world where Viking bride-hunters auction off their bounty...and where a strapping warrior vows to make this beautiful Outsider his.
Possession and passion entwine in the sultry story, "The Warlord Wants Forever" by Kresley Cole. Nikolai Wroth, a ruthless vampire warlord, searches for his Bride—the one woman who can render him truly alive. When his fevered chase leads to Myst the Coveted, a Valkyrie seductress who craves only freedom, a battle of domination and desire begins. Will the power of her seductive wiles overcome his strength? Or will she surrender and experience the deliciously agonizing lust that Nikolai has endured waiting for his one and only Bride?
Formats » Trade Paperback,