Review, Warrior of the Highlands
This was a fun time-travel romance set in Scotland, with a hero who's a true Scottish warrior!
Haley has gone back in time—and fallen in love with a Scottish warrior fated to die a tragic death...
Book details for Warrior of the Highlands by Veronica Wolff
Formats » Paperback, Ebook, ebook
Book Review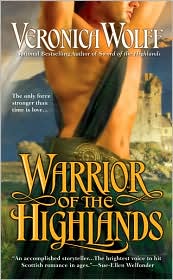 Set in Scotland in 1646, Warrior of the Highlands is a time travel romance involving true Scottish warrior Alasdair MacColla and a fictional account of his romance with Haley Fitzpatrick, a university student working on an idea for her dissertation who is thrown back in time and into the path of MacColla.
The author's notes about the life of MacColla at the end of the book make it clear Warrior of the Highlands takes a few liberties with MacColla's life story. Those liberties are worth it, since they make this novel an enjoyable and interesting trip through history.
Wolff's version of Alasdair MacColla is ruthless at times, but he has heart and that heart shows through in his treatment of the different women in his life. When MacColla meets Haley, he thinks she must be a Campbell—an enemy his family has been fighting for years. His attraction to Haley is immediate and intense and the fire between these two is at a slow burn for most of the story. There's not a lot of sex in this book, but it is spicy and romantic!
Haley doesn't know who her captor is, where she's at, or what's going on, but time travel isn't exactly the first thing she thinks of. Laced with humor, action, and history, there's a tenderness to this story that's perfectly balanced in this emotional tale of romance and heroism.
I enjoyed Warrior of the Highlands, even if it didn't turn out to be erotic romance at heart.
Reviewed by TER
Book Description
While doing research for her dissertation, graduate student Haley Fitzpatrick stumbles upon a strange artifact—which sends her back in time to old Scotland, directly into the path of the notorious Alasdair MacColla, a warrior known for his enormous physical presence and bloodthirsty reputation.
Assuming that this woman with the mysterious accent is an enemy spy, MacColla promptly kidnaps her. But Haley's beauty and courage strike a chord in the Highlander, awakening a desire in him that he hadn't known existed.
At first, Haley's frightened by her imposing captor. But she soon discovers that MacColla is much more than the brute that modern history describes, and decides she's meant to be by his side. But unless she can find a way to change the past, the warrior she's fallen for is destined to meet a tragic end.
Formats » Paperback, Ebook, ebook