Kindle Book Reader
Click this link for a shorter, more up-to-date summary of the Kindle ebook reader features.
Kindle Specs | Kindle Links | Kindle Books
Kindle books are ever more popular and to read them, you either need to install one of the Kindle apps or the Kindle PC software, unless you own a Kindle. The Kindle book reader is the best way to read Kindle books. You can take them with you anywhere and keep your entire library at hand.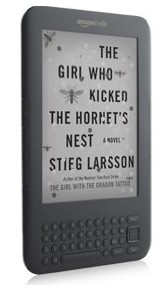 The Kindle from Amazon is hugely popular with ebook readers and also popular with fans of erotic romance, which has a high number of ebook releases and popular ebook authors.
Links
Kindle Specs & Features
There are 3 models of Kindle available in the new generation device. Kindle Wi-Fi (Wi-Fi, 6"), Kindle 3G (Free 3G + Wi-Fi, 6"), and Kindle DX (Free 3G, 9.7").
As of early 2011, Kindle Wi-Fi sells for $139, Kindle 3G sells for $189, and Kindle DX sells for $379. You can use this link to check current prices for the Kindle at Amazon.
Kindle Wireless Reading Device, Wi-Fi, Graphite, 6" Display with New E Ink Pearl Technology
Kindle Out of the Box
When you purchase the Kindle, you get the Kindle, a power adapter for your USB cable, a USB 2.0 cable, a quick start guide, and a rechargeable battery that's already installed in your Kindle. The battery charges in about 4.5 hours using a wall outlet. The Kindle will also charge through the USB cable while attached to your computer.
Kindle Connections
The Kindle uses Wi-Fi and/or 3G to download content, browse the store, and for the experimental web browser that's included. Kindle Wi-Fi can connect to public and private Wi-Fi networks or hotspots, and the Kindle 3G uses a 3G wireless connection.
Kindle Size
The latest generation Kindle, or what some people are calling the Kindle 3, is 7.5 inches x 4.8 inches by .335 inches and weighs 8.5 ounces. That's less than a paperbook and considerably slimmer.
The Kindle DX is a lot bigger at 10.4 inches x 7.2 inches x 0.38 inches and weighs 18.9 ounces.
Kindle Displays
Kindle displays content on an E-ink screen. The look is similar to that of real paper, having a non-glaring screen and a crisp clear display of text in gray scale. Reading in sunlight is easy, as is reading in normal room lighting. You need a light if you want to read in the dark because the Kindle screen isn't backlit. There are lots of Kindle book lights and Kindle covers with lights available at Amazon though, so you're sure to find something you'll like.
The Kindle has a display area of 6 inches, while a Kindle DX has a display area of 9.7 inches.
Kindle Memory
The Kindle ebook reader has internal memory storage of 4GB, with approximately 3GB of that available for your content, books, and music. There's no expandable storage with the Kindle, unlike with the NOOK ebook reader.
Kindle File Support
Kindle supports many different file types including AZW (the proprietary Kindle book format), TXT, PDF, AA & AAX (Audible's audio book format), MP3, unprotected MOBI, PRC. The following can be converted to work on Kindle: HTML, DOC, JPEG, GIF, PNG, BMP.
Other Kindle Specs / Features
A single charge of Kindle's battery is expected to last for up to a month when wireless is off. If you keep wireless on all the time, the battery charge should last for up to 3 weeks.
Kindle has a 3.5 mm stereo audio jack and rear-mounted stereo speakers on the device.
Check current prices for the Kindle at Amazon
Kindle books for your Kindle book reader!
Ebook Reader Must Have
Calibre is a program you'll want to install on your computer if you have an ebook library full of books in different formats. Calibre is a free program that lets you manage, convert, and load your ebooks. Calibre works with many ebook reader programs. Just follow the link to download a copy.
eBooks!
Instant reads need instant books. If you're looking for erotic romance for your ebook reader, then you'll want to check out the instant reads page listing many great erotic romance ebooks and possibly even the erotica instant reads page listing many great erotica ebooks.