NOOK eBook Reader
Click this link for a shorter, more up-to-date summary of the Nook ebook reader features.
Jump to: NOOK eBook Reader Review | NOOK Specs & Features | NOOK Links | NOOKbooks
UPDATE! The nook is even better than it was before with a 6" touchscreen and a lower price. It also has 50% more contrast than NOOK 1st Edition (which I own), is lighter, and has a battery that lasts longer than ever.
If I wasn't already pretty darn happy with my current NOOK, I'd buy the new one. I still might do it when my birthday comes around... :)
I bought my NOOK directly through the Barnes and Noble website.
I've enjoyed my NOOK. I have the Wi-fi version because I don't have any kind of cell service at my home – I mean I can send text messages but the signal isn't strong enough to send or receive calls, and frankly, the text messaging works sporadically. But… that's all beside the point!
The NOOK is my favorite purchase of 2010. I bought it days after the price dropped to $149 and I'm very happy with my purchase. You can use this link to check current prices for the NOOK at Barnes and Noble.
I chose NOOK over Kindle for a variety of reasons, and honestly, price played a part in that decision because at the time the NOOK was $40 less expensive than the Kindle. However, other factors also played a part in my decision, and money did not end up being the determining factor.
NOOK eBook Reader Review
The NOOK is slim, light, easy to hold, very easy to read—especially in direct sunlight, which is my favorite place to read, and sturdy. I haven't dropped my NOOK, and I seriously wouldn't recommend that you do, but the product has a solid feel to it that makes me comfortable when I'm handling it.
Scroll down for a full list of NOOK specs and features.
Why I Bought a NOOK eBook Reader
The single most important reason why I chose the NOOK when I compared the NOOK vs Kindle was the compatibility of NOOK with the R.E.A.D.S. book database that my library uses. :) I wanted to be able to read "free" books from the library on my device, and Kindle still doesn't support those books, to my knowledge, because those books are in epub format and require Adobe Digital Editions and Kindle doesn't support epub. I found talk online about ways to get around this, but I didn't want to get into unsupported and possibly illegal document conversion.
The NOOK device has a color touch screen on the bottom 1/4 of the device. The touch screen makes it easy to find my books. The newest software update for the NOOK reader gave me the ability to add shelves where I can sort and organize my ebook collection. I put in a shelf called "To Review" to help separate out the books I might want to read for possible inclusion on this site, and the other shelves help separate out my personal reading. This really helps, because I keep a lot of books loaded onto the device.
What Do I Not Like About My NOOK?
I really wish there was a way to jump ahead a few pages in my book list after I've deleted a book, because the default is to return to the list on page 1. I have 22 pages of books at the moment, so deleting several books can be a bit of a chore. I use Calibre to manage my library most of the time to get around this inconvenience.
Otherwise, the user interface and the options are very self-explanatory and the NOOK makes good use of it's pretty color touch screen on an otherwise black and white device.
I had to return the first one after a few weeks because a dot appeared on the E-ink screen and wouldn't go away, but customer service was a breeze, and I had my new one in my hands two days later. I have to give customer service points for getting this taken care of quickly and easily.
NOOK Software Updates
There's been one software update since I purchased a NOOK. I found the software update easy to install and didn't have any problems with it, during or after the installation.
Nighttime Reading and NOOK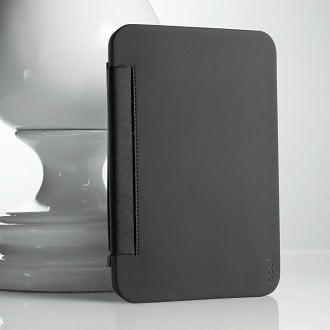 E-ink devices like the NOOK and Kindle don't have backlighting. If you want to read in the dark, you'll have to have a book light of some kind. NOOK eBook Readers have plenty of accessories
available and you can find a wide variety of book lights that work well with the NOOK.
I bought a lighted NOOK cover for my NOOK (or I should say my husband did and gifted it to me on my birthday) and this has made nighttime reading possible because I need to have the bedside light off if I stay up to read in bed. (The link takes you to the particular cover I use.)
Change the Text Size on NOOK eBook Reader
Another great feature is the changing font size. I often like to read small text, because I find I read much faster when there's more text on the page. However, nighttime reading and small text don't work well together. I adjust the font size, quickly and easily on the NOOK, and this makes reading so much easier when the lights are dim.
Final Thoughts for My NOOK eBook Reader Review
The E-ink reader display really does make reading easier. The downside is that I've noticed I read faster on a computer screen so I can't take advantage of that speed when I'm reading on my NOOK ebook reader because I read from it the same way I read from paper—quite a bit slower. I don't have an explanation for that except that I tend to skim more when I'm reading online and being at the computer brings that tendency to the fore. I don't enjoy reading at the computer though, so having the ability to read my books wherever I am is a huge benefit to me.
I can only compare NOOK and Kindle specs because I don't own a Kindle, but I'm very happy with NOOK. My NOOK is an indispensible part of my reading habits now and I wouldn't give it up easily.
I recommend both the NOOK and case I use, because they're both excellent and have worked well for me.
Links
NOOK eBook Reader Specs
As of mid 2011, the NOOK Wi-Fi sells for $139 and the NOOK Color sells for $249. You can use this link to check current prices for the NOOK at Barnes and Noble.
NOOK Out of the Box
When you purchase the NOOK, you get the Nook (of course!), a microUSB cable, the quick start guide, a power adapter that converts your USB cable for wall outlet charging, and a rechargeable battery that's already installed in the NOOK. Charging time is about 3.5 hours from the wall outlet. The NOOK also charges through the USB cable from the computer.
If you buy the NOOK Wi-Fi, it comes with a white back panel. The NOOK 3G + Wi-Fi comes with a gray back panel. If you have a love of color or personalization, you can change out the back cover for any number of available replacements.
NOOK Connections
The NOOK Wi-Fi connects via Wi-Fi. You can use the internet browser, download new content, purchase books, and anything else you can do with the 3G. Wi-Fi access is available to the NOOK free at all AT&T hotspots and in Barnes & Noble stores. If you have a wireless home network, you can also set it up to connect at home.
NOOK Size
A NOOK weighs about the same as an average sized paperback novel. If you're used to reading heavier, thicker books, you're going to love the slimness of the NOOK. Despite the weight, the NOOK often feels lighter than a paperback, and that might have something to do with not having to hold a book open to read it.
A NOOK's dimensions are 7.7 inches x 4.9 inches x 0.5 inches and weighs 11.6 ounces for the NOOK Wi-Fi or 12.1 ounces for the NOOK 3G + Wi-Fi.
The NOOK doesn't come with a cover, but there are many available to purchase so you can personalize your NOOK to suit yourself.
NOOK Displays
NOOK eBook Readers allow you to personalize your screen saver with your own photos and images. Photos and images appear on the E-ink screen so they're not going to be in color, but it's still nice to see my favorite pictures there.
NOOK has two screens: a 6 inch E-ink electronic paper display and a 3.5 inch LCD color touch screen. See your library as full-color book covers.
The E-ink display has 6 font size options.
NOOK Memory
The NOOK's expandable memory holds up to a 16 GB microSD card. Internal memory is 2GB and holds approximately 1,500 ebooks.
NOOK File Support
NOOK supports the following file types: EPUB (including Non or Adobe DRM), PDB, PDF, JPG, GIF, PNG, BMP, MP3. NOOK specifically does not support DOC, LIT, TXT, AMZ (Kindle), LRZ/LRX (Sony).
Other NOOK Specs / Features
Included in the NOOK is an MP3 player with built-in mono speaker and universal 3.5 mm stereo headphone jack. The built-in memory can hold about 26 hours of audio. Plenty for the average length of most audio books.
NOOK connects wirelessly to download content from Barnes and Noble and for the internet browser through either Wi-Fi (802.11 b/g) or the 3G connection available at no charge from AT&T. There are no additional fees or contracts for the Wi-Fi or 3G access. NOOK comes with free Wi-Fi in all Barnes & Noble stores and free Wi-Fi in all AT&T hotspots.
NOOKbooks for your NOOK eBook Reader!
Ebook Reader Must Have
Calibre is a program you'll want to install on your computer if you have an ebook library full of books in different formats. Calibre is a free program that lets you manage, convert, and load your ebooks. Calibre works with many ebook reader programs. Just follow the link to download a copy.
eBooks!
Instant reads need instant books. If you're looking for erotic romance for your ebook reader, then you'll want to check out the instant reads page listing many great erotic romance ebooks and possibly even the erotica instant reads page listing many great erotica ebooks.